Hello everyone! I am excited to share what I made last weekend with you all! I really wanted to do something with the fruit of the Spirit. I don't know if you guys have googled fruit of the spirit crafts or fruit of the Spirit art but I was less than impressed with the selection of mature & stylish projects.
A couple weeks ago I made a Dori notebook out of painted canvas and that is how the idea for this project was born. Today I want to share with you guys how I made these canvas banners. With summer approaching this would be a great fruit of the spirit craft for teens at vacation bible school or church camp. You could also sub out the fruits of the Spirit for other scripture lists like the beatitudes or like the things we are told to think on in Philippians 4:8 which is what I did with my second banner.
Anyways here are some things you will need. Each will link you to amazon!
Canvas (Or some other stiff & paintable fabric. You could also use paper & keep it simple.)
Paint & Brushes
Scissors
Hole Punch
Twine (Or some other stringing material like this metallic twine!)
Paint Pen
This is what i think you need. All the other things I used, I would consider optional.
Gesso
Eyelet Punch
Eyelets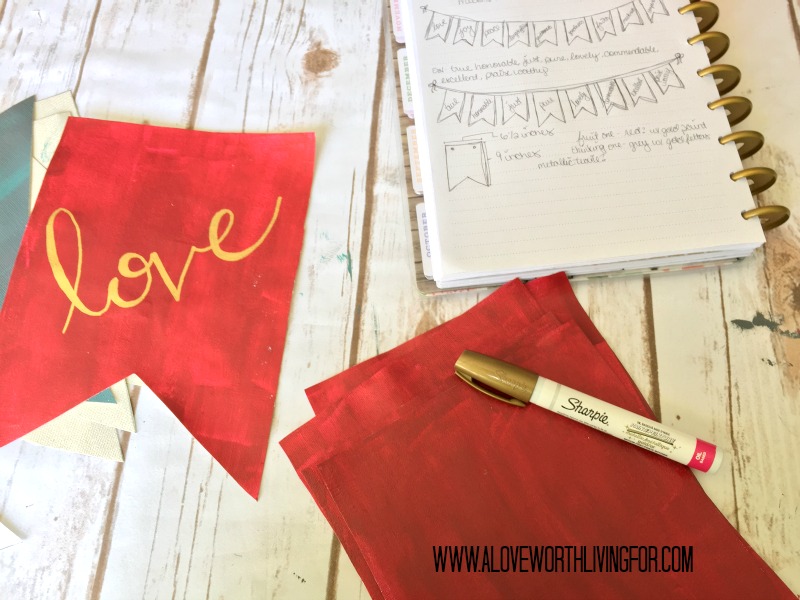 First
The first thing I did was make a pattern on a scrap sheet of paper so that I had an idea for size. I made mine 9x6.5 inches. Next I sketched out each banner so that I had a visual of what I wanted my finished product to look like and so that I had a correct spelling of each word to look at later.
Second
Next you will need to get some canvas. You could just buy a couple yards of it at a fabric store but I have tons of painting canvases hoarded up in my craft closet so I just could not justify purchasing fabric when I could just cut the fabric off the painting canvases. You do whatever is most convenient for you.
I ran a hot iron of my fabric to get the fold out of it from where it had been wrapped around the frames.
Third
Next I used that pattern I made from scrap paper and a ruler and traced out each banner onto the back of the canvas. I did this before I painted the other side so that I wouldn't mess up the paint tracing by tracing on the back.
Fourth
Paint! Whatever you want. I suggest keeping it simple but you could do whatever you want. I painted my Fruit of the Spirit craft one red & I painted my Philippians 4:8 one grey with streaks of blue. For that one I just laid down the grey and while it was still wet I grabbed a little bit of teal paint with my brush and then brushed it through the grey. The more you brush the streaks the more they will blend. The less you brush the more they will stand out.
Let them completely dry before moving on.
Fifth
Now cut them out! I cut all of mine out and then on the backs each I used the pattern again to mark the triangle to cut out to make them banner shaped. I put a small dot or line where the top of each triangle cut out should be and then I folded the banner in half and cut one diagonal line from the bottom corner to the mark I made on the fold.
Sixth
I grabbed a sharpie paint pen in gold and I carefully wrote on each word. You could use a brush and paint to do this if you have a steady hand. I choose to go with the pen to shorten the project time. Let the paint dry before moving to the next step.
Seventh
Next I got my pattern back out and I marked where I wanted my holes. I believe mine are 3/4 of an inch from the edge. I punched holes in my pattern and then I laid the pattern on the back of each banner and marked them. Next I went through and punched each hole into the canvas. I used my Crop-A-Dile Big Bite eyelet punch to do this. If you don't have an eyelet punch you could try using your hole punch. If that won't do it then just use scissors to cut a small X where you marked and all will work out just fine. I highly suggest the big bite though! If you ever work with fabric it is worth the purchase!
I opted to use the eyelet punch because I wanted mine to have a very finished look. So after I punched my hole I added eyelets to each hole.
Eighth
String it up! I used a cheap twine I found in the floral section. On the Fruit of the Spirit craft, I just strung it up normal but on the Philippians 4:8 banner I added knots to the twine at each hole to keep the banners from moving.
I tied loops at each end and then hung them up!!
I LOVE THEM! The commendable banner go a little smushed but other than that I am super pleased with how this scripture art turned out! I put the Fruit of the Spirit one in my kitchen & the Philippians 4:8 one in my living room!
This is a great project for any home that want to just get more scripture into their homes and lives. If you have kids this would be a great thing to do to help them memorize scripture lists! If you teach Sunday school, youth group, church camp or vacation bible school this is an excellent project for older kids and teens. This would even be a great project for conferences and things.
If I were to teach it on a larger scale I may switch to a heavy card stock as apposed to canvas for time. But if you have the time I would definitely go with canvas!
What do you all think? Do you like this craft? Let me know? If you do it, then please tag me in a picture of it on social media so that I can check yours out!! Make sure you guys are following me on the inter webs & share this project with your followers!
Also guys! Make sure that you are in our Living For Love VIP club!! I send out encouragement weekly!
I am thankful for all of you who choose to come here and read my stuff! Thank you guys!
See you soon!